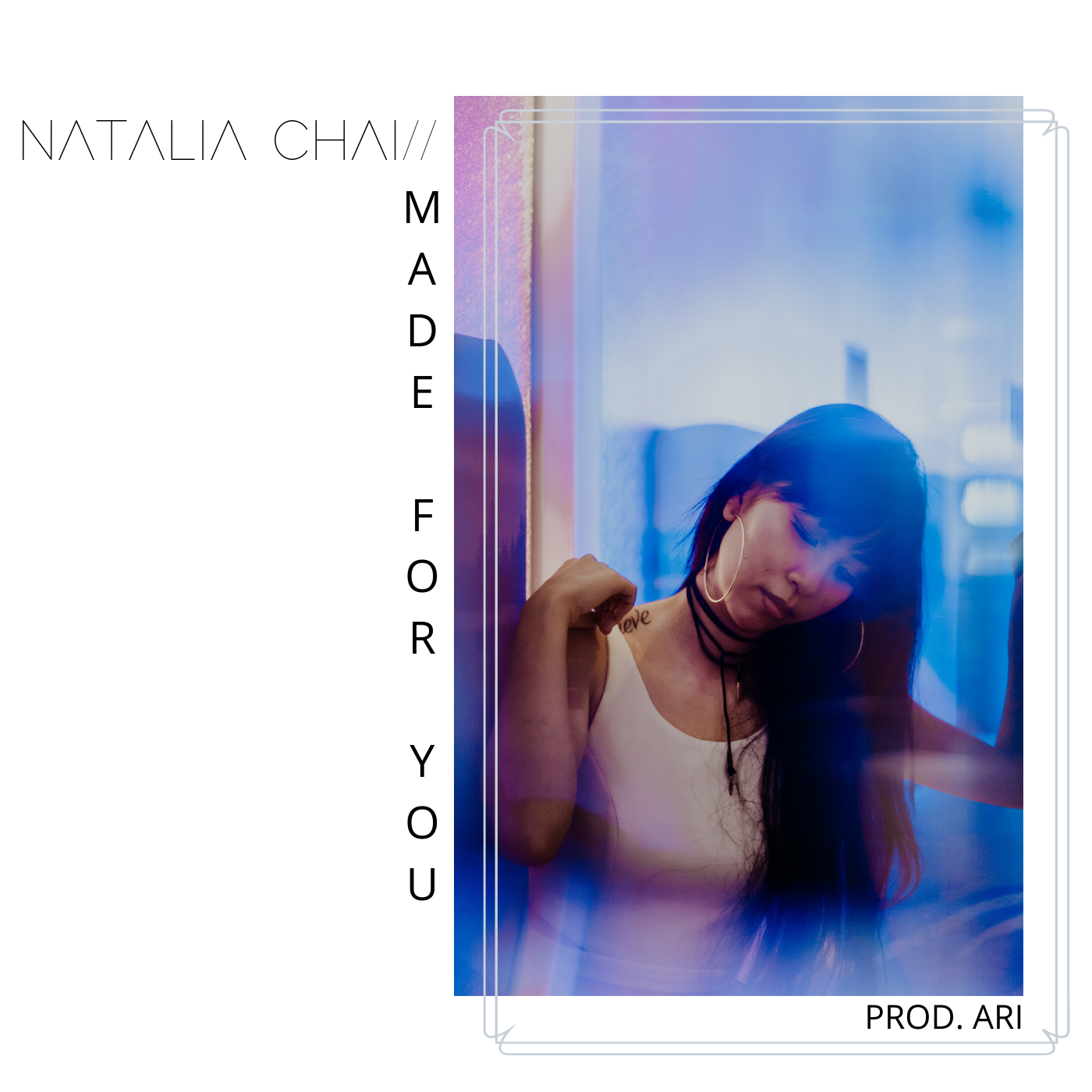 "Made for You" was written almost 1&1/2 years ago - in the fall of 2018. I distinctly remember sitting in my room, blasting Maxwell's Urban Hang Suite. I've listened to that album on repeat for so many years but somehow that one night it sparked that little something that started "Made For You". Maxwell is one of my biggest musical influence - one of the original neosoul artists who helped shape the genre in the 1990s along with D'Angelo and Erykah Badu. In the studio sessions with Ary and Emmanuel it was amazing to be both the active contributor and external witness to the live transformation that took place as the song developed and progressed. These two talented musicians were able to bring what I heard in my head to the next level while maintaining the smooth grooves but added a simple complexity of retro 90's R&B vibe that artists seem to be revisiting now!
Inspiration...
Society is constantly changing especially now and is a function of the people. Today we have evolved to become one that is more individualized as a result of globalization - at least that's what I think. Isn't it ironic how much more connected we are today with each other globally and yet we have become more and more lonelier? We are also a society that feels entitled to anything and everything NOW! The issue with an instantaneous culture is that we don't value things, people or situations as much. If something doesn't benefit us now, we move on to the next thing that may get us to where we want to go faster. We no longer see the value in taking time to respect the process, the journey, and those along the way. What we seem to forget about in the "old days" is the undervalued importance of the human connection. Social and emotional connections are what makes us human. It builds civilizations. We see how true this is in our current societal lock down and how it is affecting us individually and on a global level. In the "old days' that were void of technology, direct human connection was done organically and genuinely. Stories, music and discussions over dinner at the table or community gatherings gave us the opportunity to really know and understand one another. This is the foundation of building a strong and sustainable community and civilization.
"With so many things coming back in style, I can't wait until morals, respect, (loyalty) and intelligence become a trend again." - Denzel Washington
You're probably wondering how does this relate to my song? Denzel couldn't have said it more perfectly. "Made For You" and everything that Denzel had said above evokes aspirations and elements we aspire in a relationship. I acknowledge that we live in a modern world where many different and opposing views about finding "the one" exists, but I am a traditionalist in this department. I will not be an option. I am all or nothing. I do not believe in dividing my attention 33/33/33. I am a 12/10 (this is one of the songs off of my #Connected LP - click HERE to listen!) kind of gal.
Have you ever met somebody who you knew was "the one"? Have you ever felt an intuitive connection with someone else on a deeper level? Did it feel like you were literally made for each other? "Made For You" dives into the value of taking the time to get to know your partner. Imagine all of the possibilities that can come out of sharing stories, laughter, tears, fears, hopes and dreams. Being vulnerable and learning to embrace each other's perfections and most importantly imperfections.
Credits...
1) HUGE shout out to the one and only Ary (@ary_jorge) - the producer, keyboard maestro and mastermind behind this track!
2) The out of this world guitarist who completely shredded my whole track is Emmanuel Ekanem.
3) Amson Saintime who added some salt and pepper to round out my whole sound on the bass.
Working with artists and musicians with a gift like theirs is what I love doing - it makes me anxious and scared at times but most importantly it pushes me to become better! Please let me know what you think of my new track - do you like it? Hate it? Are you vibin'? If you dig my sound, please share the love, the link and follow my social media to stay #Connected!
SHARE THIS HASHTAG #NChaiBS if: 
1) You feel the positive vibes; 
2) You share similar experiences; 
3) You want to have a chance to win a copy of my #CONNECTED LP (free giveaway with every new project that I release!)
Stay, baby don't go
There are so many things, I need to know
Fate, found us this glow
Do you think we're ready, to reap what we sow?
Imagine all the laughs we'll have with each other
Can you imagine our bond only growing deeper?
Imagine all the talks we'll share with each other
Love will only transcend to higher heights
I was only made for you
Nobody can stop us (no one but you can give me this feeling so right)
You were only made for me
Nobody can stop us
We only get back what we give out
Creating the love we cannot doubt
Our inner connection will surmount
All space and time
Your energy always sets me free
If you are in I can guarantee
I'll be the love and loyalty you need
Imagine all the secrets we'll share with each other
Can you imagine our bond only growing stronger?
Imagine all the time we'll spend with each other
Progression will take us to higher heights
I was only made for you
Nobody can stop us (no one but you can give me this feeling so right)
You were only made for me
Nobody can stop us (no one but you, no one but you babe)
I do believe that we're only meant to be
Here together, we were made for one another, o yes
I feel at ease when it's only you and me let's vibe
We cannot lie, we can't deny you and I
That I was made for you
I was only made for you
Nobody can stop us (no one but you can give me this feeling so right)
You were only made for me
Nobody can stop us (no one but you, no one but you)
I was only made for you
Nobody can stop us (no one but you can give me this feeling so right)
You were only made for me
Nobody can stop us
No one but you, no one but you babe
#NChaiBTS #nataliachaimusic #madeforyou