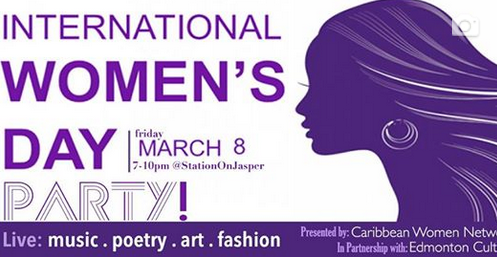 Genieve. Madi. Deanne. Waymatea. Vanessa Domingues. Kaje. Michaela. Karimah. Medgine. Natalia Chai.
~ ~ ~
Sabrina Claudio. Alicia Keys. Des'ree. Nina Simone. Whitney Houston. Andra Day. Aretha Franklin. India Arie. Beyonce. Grace.
The second group of names we know have touched so many with their gift in music and relished in their iconic songs that has given so many on this earth hope, strength and inspiration! The first group of names may not be as recognizable but these are the names of the artists, musicians, singer-songwriters, vocalists, friends and now my sisters who I have had the privilege of working with this past month to put on an amazing show to celebrate International Women's Day on March 8! We have been rehearsing the songs by our idols named above and ready to celebrate and appreciate all the amazing women in our beautiful city of Edmonton #YEG this very day when we will all become friends, sisters and family in support of one another!
As I am enthusiastically writing this blog to promote this event, I couldn't help think about an important question as I become more involved with our local music scene. As a "green" solo, independent singer-songwriter in the industry, I am starting to take notice on some matters that is still common even on the international level of the entertainment industry. Gender diversity in the music industry. The Edmonton music scene is an intimate, small and slow budding community. It still seems by far and large that the scene is heavily dominated by males - musicians, producers, sound engineers, sound tech, and even extensions that help our craft such as photographers and videographers. In an era of the "Time's Up" and "Me Too" movement one can argue that this is the moment when women's voices, roles and influence can start affecting and impacting to the same degree as our male counterparts. You see the likes of Taylor Swift, Adele, Beyonce and Nicki Minaj and we get all pumped up because they represent strong female figures in the music industry but what we don't realize is that they only represent a small percentage (I think it could be something like 20% were women who made it on the Billboard's Hot 100 chart and even less at 12% of women credited for work behind the scenes for music credits - please don't quote me - I remember these numbers vaguely from a discussion with another musician one day) of women in the whole music industry.
I have had the privilege to meet so many powerhouse women artists in the Edmonton music scene from different walks of life. I am always so humbled and inspired by their stories. They are all my idols and give me inspiration to better myself. In preparing for this event on Friday, the ladies and I were perplexed at how difficult it was to find a female bass player and guitar player. It was very funny how we all knew so many amazing bass and guitar players in the city - but they were all males. Now why is that? Is it because it's written somewhere in stone that bass, bass/lead guitar players, and drummers for that matter are meant for males? You know how in some languages objects are assigned a "female" and "male" subject like in French - are instruments therefore assigned a gender?
How often do you see a band made up of 1 female (who is usually the lead vocalist) and the rest males? How often do we see a female producer? How often are the "sound guys" at venues we play at are actually female? Doesn't it make you wonder why this is? I also see this in the China, Taiwan and Hong Kong music industry? Ain't this funny? When it comes to women contributing and leading it appears that we are being shut out of the process. It definitely isn't because we don't have the chops because I have seen so many talented women who are more than capable of doing so amazing in these positions. Did history somehow inadvertently set norms in the industry or is it because the ratio of male to women in the industry is just so overpowering that any female figure who wants to make a bigger mark in the music industry outside of being the lead vocalist gets overshadowed? What I do see though is if the female artist has a strong support system - family, friends, manager, event curator/publicist - or in other words have the "right connections", commercial and public recognition gains greater momentum than if the artist is independently managed. I don't think the answers will be easy to come by but I'd like to see this change because there are a lot of strong women artists who deserve to be recognized!
One of my many goals is to hone in on the production side and really hope to see more female figures emerge into roles that are deemed to be "male roles" only. I am a thinker and think a lot about a lot of things and this just happens to be one of them - women in music and why we don't seem to have the same influence as the men in music. What are your thoughts? Nevertheless, I love what I am doing and grateful that I find myself being able to bank more hours into my music growth starting with this amazing opportunity with these beautiful artists and musicians!
NOW! If you and your ladies (and men who support and love their ladies) are looking for an evening night out - look no further! Come out for a night of celebration of live music, art, poetry, and fashion! Cannot wait to see you all there!
Details of this event can be found HERE including early bird tickets!!!!
Let's celebrate community, friendship, sisterhood and being a woman!