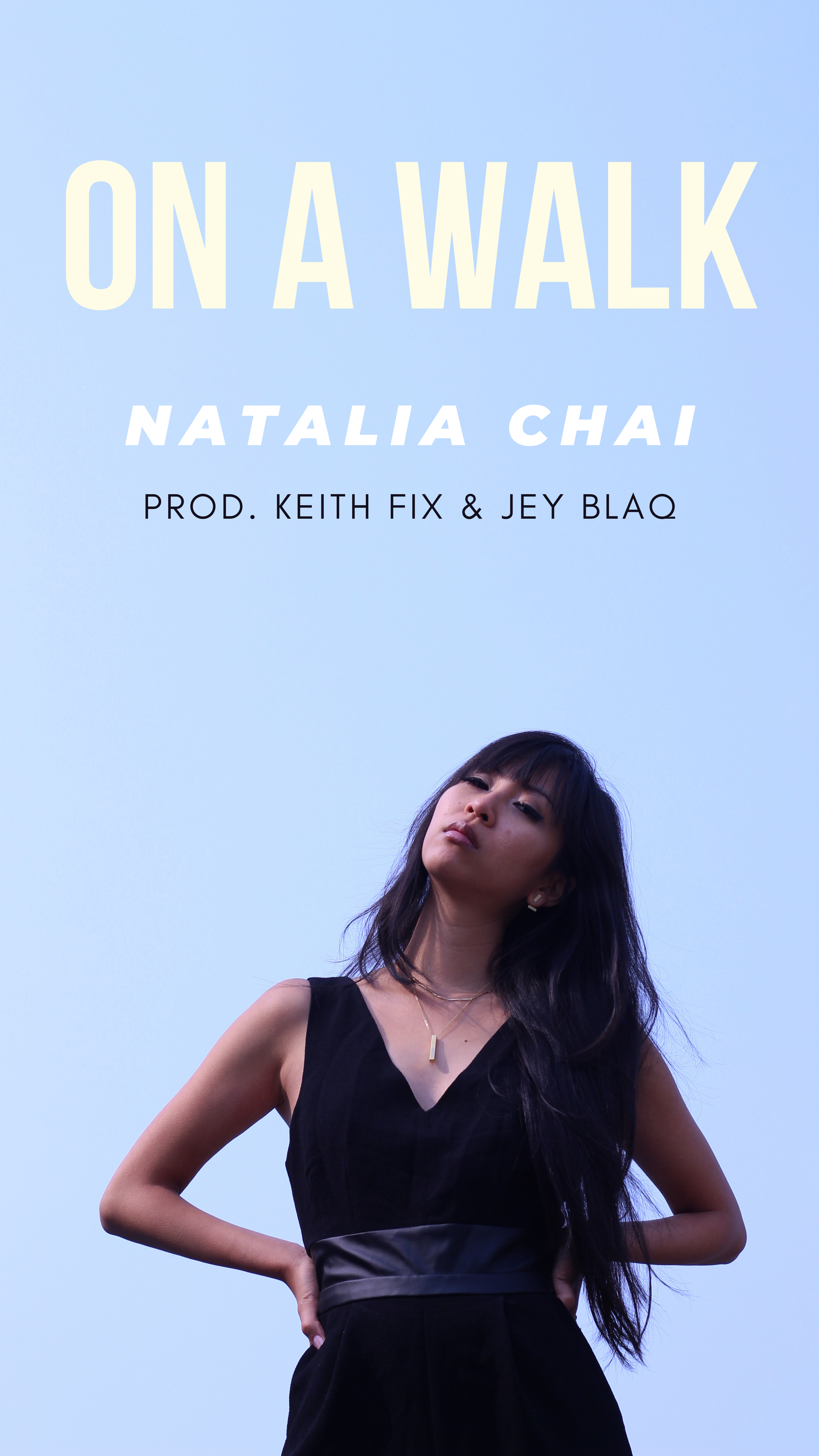 What a novel year 2020 has been for all of us! Although it is easy for us to reflect on the negative, I am thankful and grateful for a lot of things from this pandemic. I am thankful because it inspired this song - and "On A Walk" is the 2nd fastest song I've written after Ride or Die!! I have learned quite a few lessons especially pertaining to humanity and would like to share them with you!
1) Slow down. In our instantaneous culture and 'way of life', COVID has taught me to turn off auto-pilot mode. I learned how to be ok with not doing anything and to manage my anxiety better. This is commonly known as resting. I learned to be present. I learned to reflect and prioritize people and goals in my life. I learned how to pause and appreciate the little things such as watching steam rise when I make myself a cup of Chai tea or watch the leaves on the trees outside of my window turn from green to yellow, orange and red. 

2) Minimalism. I was taught at an early age by my mother that having things never equate to happiness nor is the answer to finding purpose in our lives. Aside from our basic needs I realized quickly that I really don't need a lot of things to live a meaningful life. It comes down to the nature of our hearts - are we kind, compassionate, loving, patient and nurturing? Because let's face it, having a lot of things won't make up for what really fills our spirits. 

3) Connection. In all circumstances there are always two sides to the same coin. The lock down served both good and not so good purposes. Being in quarantine helped me find solace in my own solitude giving me space to reflect deeply. But there did come a time when I missed seeing my family and friends and meeting new people through music. Humans are naturally social beings. We were created to commune with one another. To connect with others through sharing stories and to build communities. As a result we tapped into our creative capacities that leads into my next lesson....

4) Inspiration. Isolation ironically brought us together. Through social distance we had to find creative ways to reconnect with each other. In a way it pushed us to rediscover our own backyards and see our communities through different lenses. A lot of social activities that we took for granted was temporarily canceled giving way to other activities we may not have engaged in normally. Outdoor activities were the norm such as meeting small group of friends for walks, picnics, hikes and bike rides. It was quite frankly the 'safest' thing to do but also an opportunity for us to re-connect with people who are important in our lives. For me, it was going on walks. 
I went on a lot of walks this summer with my friends. This was a time when we talked and shared conversations about what was going on in our lives, how we were feeling, what our hopes and dreams are and what we want to accomplish in the near and distant future. Going on walks was for most the only way to stay connected with our loved ones through the simple act of conversation in person. "On A Walk" was inspired by our new reality and a reminder that something so simple such as face to face interaction, asking how you are doing, eye contact and a simple smile goes a long way! So if you're ready, "Let's go ON A WALK" and share the love with your friends and families!
Please link up to "PARTNERS IN MUSIC" to learn more about the gentlemen who helped me with this project! KEITH FIX & JEY BLAQ
Please support my song by purchasing my single HERE! or STREAM HERE! It is available on ALL PLATFORMS so just search my name and "On A Walk" and you will be able to CONNECT with me! Thank you so much for your support so I can continue to create more music and content for you!
I WANT TO KNOW! How has COVID 19 affected you and your families? What are some positive moments that you encountered during our pandemic?! Comment below!
May I ask for some time? 
Cuz I'd like to unwind 
Feel our energies align 
If you should feel so inclined 
I was just thinking that maybe 
We could find a place where we can spark 
It doesn't have to be crazy 
If you should feel so inclined 
CHORUS
Let's go on a walk 
Where we share our thoughts 
Let's go on a walk 
And have conversations 
And let's talk about our situations 
I just wanna feel you near me 
Every part of you your mind, your body and your soul 
I just wanna vibe and let us be 
Let us tune the world out and be on our own 
Take our time and get to know 
All of our secrets, it's show and tell 
Wander our minds, let us get lost and found 
Are you inclined? 
CHORUS
BRIDGE
We can go to the park 
And stay till 12 o'clock 
Find ourselves in the dark 
Under the shining stars 
And we can share our dreams, 
And turn them into reality
CHORUS