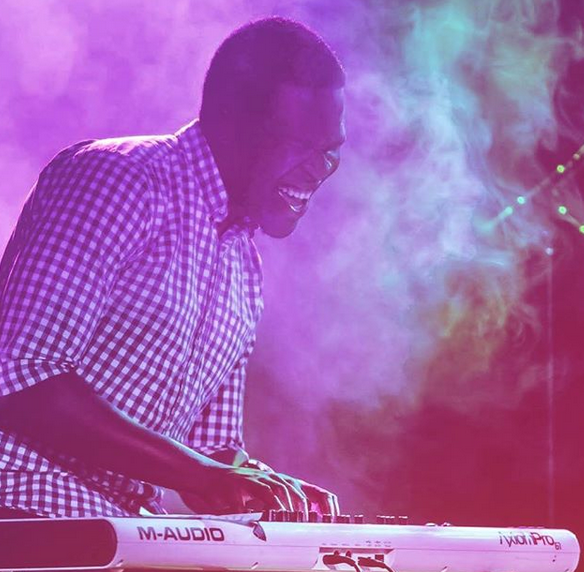 Aristotles aka. Ary
You may recognize this "stank" face on many stages back in the "good old days" before COVID19 paused our live music culture. Ary is a jack of all traits - he slays the keys, he is 1 of 6 band members in the local band Melafrique (I am a proclaimed HUGE fan!) and a talented producer for a diverse roster of musicians globally! We started working on "Made For You" back in the summer of 2019 with a shared vision for this track. During our studio sessions Ary understood the vibe and "feel" that I envisioned - a retro, 90's R&B, feel good and smooth groove! In many ways he was also a coach - a very patient coach! He was one of the first to really push me to break through my stubborness and use my "real" singing voice. For those of you who have listened to my earlier projects you should notice a change in tone - fuller, more direct, with greater clarity and control! I have a lot of respect and remain grateful that a musician and artist of his calibre was willing to collaborate with me through my learning curve! Huge respect to Ary for not only our track "Made For You" but also for the music he continues to gift the world! Please show Ary some love!
PRE-SAVE "Made For You" that will be releasing April 24, 2020! I guarantee this track will get you off your feet and maybe break a dance move you never knew you had in you!
Instagram: @ary_jorge
---
Emmanuel Ekanem
Emmanuel is another "one of those" musicians. Like Ary, Emmanuel's musicianship is a divine gift - "one of those". His ability to create and transform a melody into a story line on the fly was an honour to witness in the studio. On top of that, his ability to harmonize perfectly in just 3 takes was amazing! I am again very grateful to have amazing talent and musicianship bring my track to another level and I am so excited to share "Made For You" this coming Friday, April 24, 2020!! Please share the love and spread the positivity and big-ups to these two gentlemen who helped make another dream and vision come true!
"MADE FOR YOU" AVAILABLE HERE!