Why hello! Welcome to Natalia Chai Music and welcome back to those of you who's been with me from the beginning! I have missed you all and extremely excited to share my new music, shows, projects and news with you! In addition to the new and refined look of my re-brand, I would like to take a few minutes to outline and share some new ideas and features on my website. Shout out to Darren @dgeephotog who is the base design genius behind what you are seeing now as Natalia Chai Music. The pictures on this website was captured by the amazing Kristin Breitkreutz @kristinbreit who has the most amazing personality making our sessions extremely fun and my new brother who I just met a couple months ago Roelle @npony7 on my epic trip to the ATL aka Atlanta! Without further ado, here are some of the new experiences you will find so that I can start new #Connections and #stayconnected with you throughout my music journey!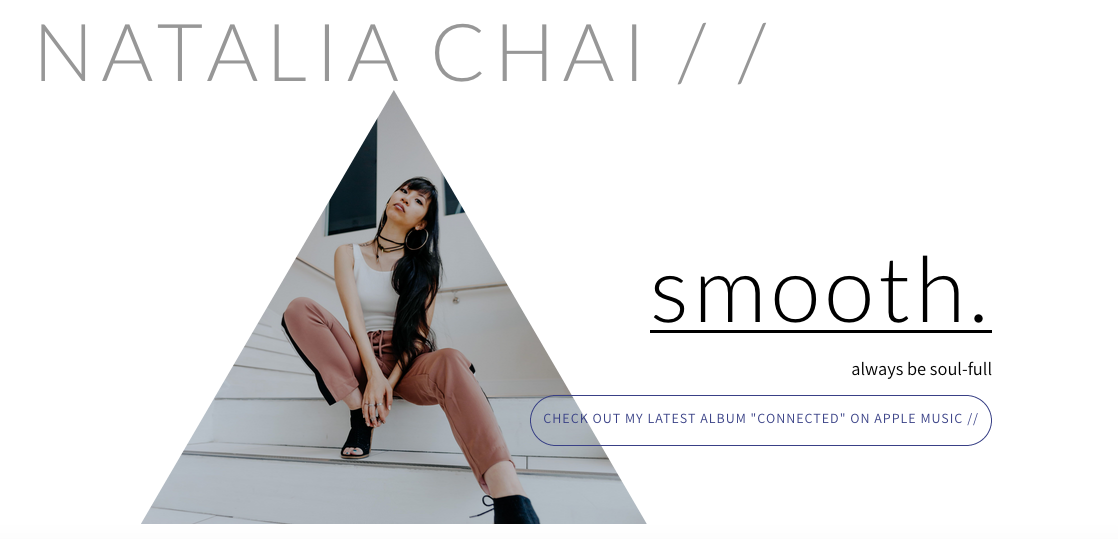 1) MAILING LIST - "#stayconnected with Natalia Chai Music"
By signing up to my mailing list you will be the FIRST to know before anybody else:
a) When and where my upcoming shows are;
b) When my new projects will be coming out AND even get to see small sneak peek #BTS footages;
c) PROMO codes;
d) a way for me to personally express my gratitude and appreciation to all of you for being so awesome behind my music journey!
I will be sending out monthly emails on the LAST WEDNESDAY OF EVERY MONTH, outlining everything exciting that's happening, what I'm working on, who I'm working with, where I will be, what I'm learning etc etc within the next couple of months so that I can create the best music for you to stay inspired, creative and believe that anything is possible! SIGN UP NOW!
2) NEW SCHEDULE
Those of you who has followed my journey from the beginning may remember that I had a blog titled "Natalia's Hooks and Looks". Every Monday I alternated blog posts between topics that were music related with fashion (which is actually one of my other passion - how to look bawse in extremely affordable fashion!). Although the fashion blog was super fun I decided to change things up to create better direction and to have music as my focus. Therefore what you can look forward to every MONDAY are my blogs, where I discuss about topics in today's music industry that I've personally come across, share my two cents and release highly "confidential" information about my latest projects! Every 2nd MONDAY I will have new YOUTUBE VIDEOS to post! (and if I get really good at it, I may even start taking requests!)
I will also be releasing new singles every 2-3 months to remain connected with all of you starting in February 2020! STAY TUNED & MARK YOUR CALENDARS!
3) #NChaiBS aka. #NChai"BackStory"
I was sitting at my kitchen table writing blog after blog undeniably coming across many mental blockages of not knowing what topics to write about next. As inspiration has its funny moments of appearing, I had the idea of starting a new way to share my 'back stories" behind every single that I drop. When I listen to a song and I think about the ones that I really felt a connection with, I am always curious what the artist who created the song was going through. What/who triggered the topic? Where were they when they wrote this song? What lessons were learned if any? I find deeper meaning, appreciation and understanding with artists when I know their stories and that's what I want to let you all in on. Although I am a very deep thinker, I am not a great daily communicator. Music and writing however is the only way that I can be somewhat cohesive in what I want to express (ask my closest friends - they know what I mean by this!).
In addition, every time I share my #NChaiBS I want to encourage all of you to use this hashtag, share a similar story for a chance to get my single FOR FREE! Keep your eyes and ears locked for my first #NChaiBS edition NEXT MONTH!
4) Collaborations Tab
Over my young 3 years in the #YEG music scene, I have had amazing opportunities to make life long connections in the industry who share similar visions and goals as I do. It only makes sense to work with these awesome individuals to create something more magical and to learn from them professionally! I have A LOT of exciting collaborations with artists, producers and industry personnel coming down the pipes. This tab will also allow me to share a little bit of their stories and amazing work so that if you dig what we are doing together, you will no doubt dig their individual work. You will be able to find their handles and be able to connect with their awesomeness as well!
I hope you all take advantage of these new changes to Natalia Chai Music and if you like what I am about, if you feel the slightest hope, inspiration and believe that anything is possible, please share the love and positivity and spread it to anyone who you think may also find meaning in my sound!