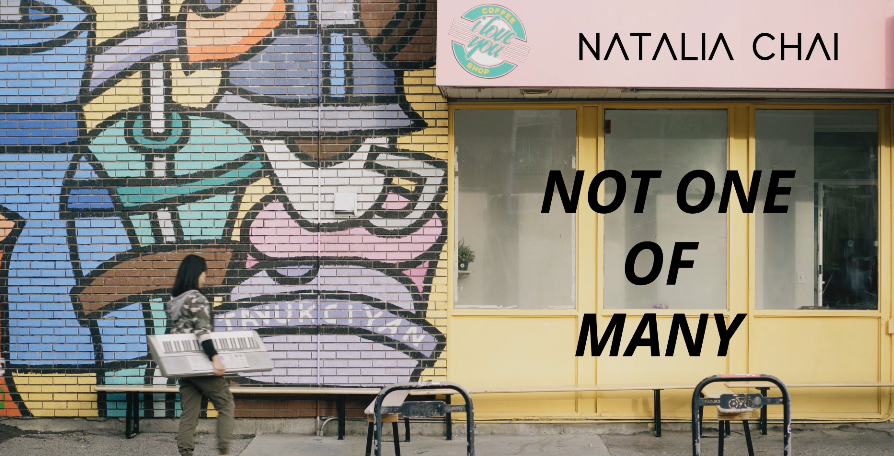 The visual. The lyrics. I want to immediately give a huge shout out and thanks to Dhilan Gamage (@dhilan.g) whom I worked with for a second time after the first project for "Inner Peace" with his partner in crime Corey Tran who is in the other part of the world making some big waves at the moment! I say this every time but I think this is by far one of my most favourite and proudest work to date for many reasons. This song was written and recorded almost 3 years ago and a work that is 100% reflective of my own creation - piano and voice that is. The message and inspiration came from a place of vulnerability and intimacy and I wanted to portray this on screen. From working with Dhilan on our first project I witnessed his capabilties at capturing cinematic footages, putting them in a sequence that tells a small back story and colour grading skills! In addition, the creative input he offers is very refreshing and allows room for discussion and learning! For example...
The Initial vision...
When I approached Dhilan about working on this project, I had an idea and concept in mind already formulated. Given the natural intimacy of the song, I want viewers to know what I am saying. Secondly, I wanted to personify the title - I am "Not One of Many". How would we achieve this? My initial idea was to have the beginning of the video start off as black and white and as the video progresses with the song, little by little each frame would introduce some element of colour. Eventually this will work up to full colour frames toward the end of the video. I wanted this to metaphorically show that because I'm not one of many, the more someone understands, sees and appreciates who I am and what I can offer, together the world around us will be full of colours.
The Progression...
Because this is a music/lyric video, the element of story telling wasn't as essential for this project. Instead we wanted to choose locations that were cinematically captivating, eye-catching, full of colour that evokes emotion. Initially I had another friend, Stephen who assisted us with drone shots that were amazing. Unfortunately, the frame rates didn't work in the editing step and we couldn't use them for this project - it was a very sad moment for all of us (I will find another way to utilize them!) I initially wanted an indoor shoot with me on the floor, off centre, singing. However, as Dhilan and I continued our shoot I started to think more about the overall look and ditched the indoor idea for the better. We took 2 days of shooting (few hours each) to capture footages at Central Memorial Park, a beautiful murale near the park, Bow River path and High Park.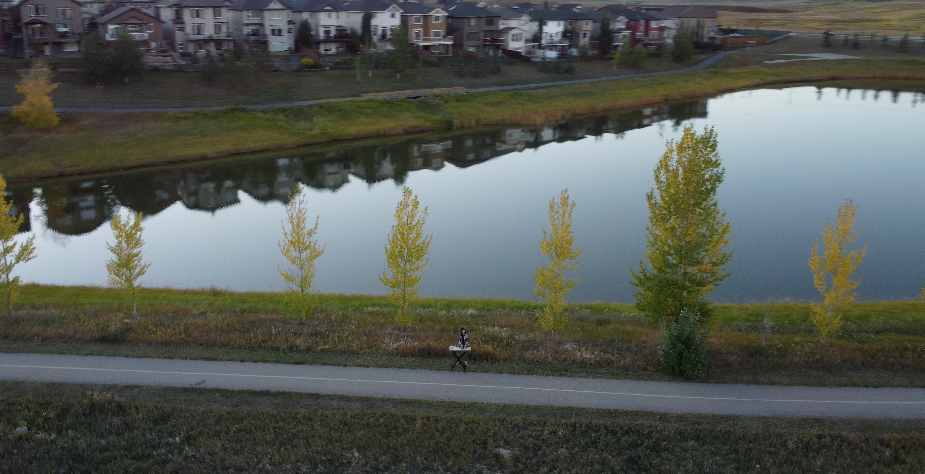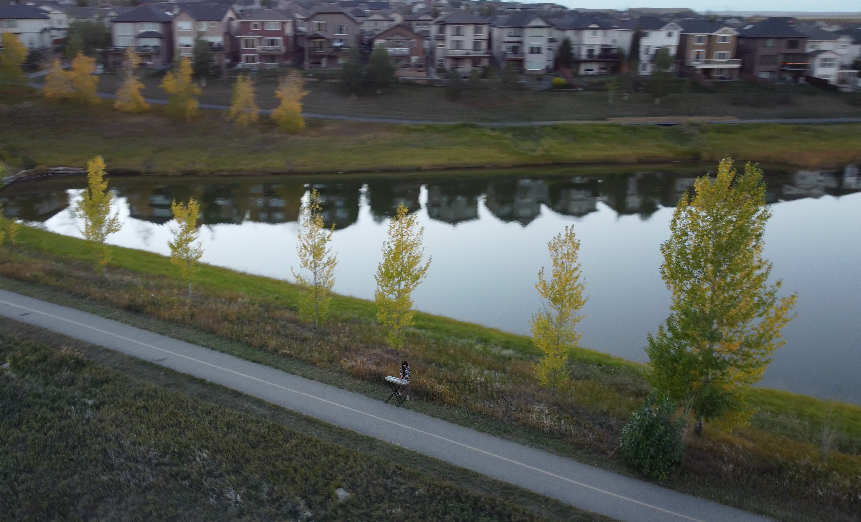 The drone shots that Stephen captured but sadly weren't in proper frame rate! :(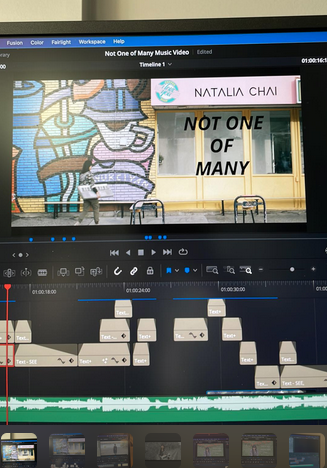 A screenshot of what Dhilan's timeline looked like...crazy!
The Options...
The videographers I work with are encouraged as much as possible to bring in collaborative ideas, suggestions and input. I've learned over the years that as much as I have a set idea going into the project, the beauty of the process is working with other creatives collectively to create an even better, higher level product in the end. Dhilan offered critical thinking and came up with 3 options:
"1. We make everything b&w and have it as our stylistic choice. That way the vibe we're giving is a kind of vintage and emotional piece. Since everything is black and white we're focusing on you."
"2. We make you the only colour source in the whole video. This way we're connoting you being sort of the "not one of many" in a monochrome world."
"3. We make you b&w and everything else in colour. This is my least preferable option but if you wanted to portray a melancholy feel, I think this would be effective."
We opted for option 2 but with some adjustments on the editing side. We had a meeting where Dhilan showed me the amount of work that was required to isolate me from everything else to create colour amongst a B&W background and it was crazy! We decided to have the video start off as such (me in colour and the background B&W) and immediately go into colour which in hindsight works very well. Because of the locations that Dhilan chose, it would have been a shame to not showcase the vibrant colours they offer. The nature scenes also had a beautiful sunset that hit my face just at the most perfect angle and moment. Bravo Dhilan! I am super grateful for all your hard work, your ability to see and internalize my vision to a level that I didn't see myself and your passion for creating meaningful visuals!
Please make sure to give Dhilan some love and check out our latest project for "Not One of Many". We hope this inspires you all to fight for love, joy and peace that we all deserve! We would appreciate if you could spread the video and song with friends and family! :) Eternally grateful!