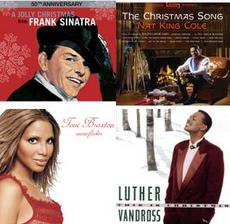 I don't know about you, but Christmas is one of my favourite seasons. The food, the presents, the music, the decorations, and the gatherings are some of the reasons that make it so. But it is during this time when differences, disagreements, animosities and grudges among family and friends can be temporarily forgiven and tolerated. Tomorrow is never promised and life as we know it today is not certain which shows us the greatest importance of living in the NOW.
I become nostalgic when I hear Christmas music as it brings me back to the Christmas concerts in school and piano recitals! This month's playlist of course highlights some of my favourite Christmas songs and different versions that many artists over the years have done! My two absolute favourite Christmas songs are: 1) Christmas Time Is Here by Toni Braxton and 2) Have Yourself a Merry Little Christmas by Frank Sinatra. Last year I did my own cover of "Christmas Time Is Here" which you can check out on my Youtube Channel below! There's nothing like music that gets us ready for the season but most importantly, a season where I hope and pray for the power of love and kindness, compassion and tolerance, respect and joy prevails over what we have seen this past 2 years.
ANNOUNCEMENT!
I will be doing an Instagram and Facebook LIVE short concert to share some cheer and love through the Christmas spirit by singing a few of my Christmas favourites! Please tune in Tuesday December 21, 2021 @7pm MST @nataliachaimusic to sing along with me!
Click on the link below to listen to my Spotify Christmas Playlist - Christmas Classics Then & Now and I wish you and your loved ones A Merry Christmas and a Happy New Year!